Aggies intrigued by hoopster turned wideout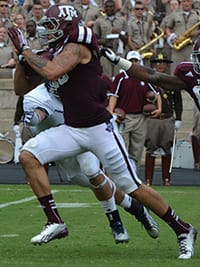 Click
Here
to view this video.
In recent years, a number of players with more basketball than football experience have made an impact on the college and pro levels. Tight ends Antonio Gates and Jimmy Graham have become weapons for the NFL's San Diego Chargers and New Orleans Saints, respectively, while Texas A&M's own Mike Evans has become perhaps the best wide receiver in college football.
In Graham's and Evans' case, recruiters saw the same thing, two extremely athletic individuals, with an outstanding combination of size and speed. Houston Westside Head Coach Mark Byrd believes he could have a similar kind of player in enior wide receiver
Frank Iheanacho
.
"He is 6-foot-7, 225-pounds," said Byrd. "He played for us as a sophomore, and went through the spring as a sophomore. Recruiters were all over him then."
Byrd is not the only one who thinks that Iheanacho just might have what it takes, but college recruiters are pondering the idea as well.
"He decided his junior year to go straight basketball," said Byrd. "He has five basketball offers right now. (University of New Orleans, Tulane, University of Alabama Birmingham, Lamar and Carrollton State). Then he came back out in the fall for his senior year. He said, 'Coach I think I can get a better offer in football. Would it be ok if I came out and play?' Of course, I was like, 'Oh yeah, come on.'"
It did not take long for recruiters to notice he was back on the gridiron.
"He comes out, and he has been through six games so far," said Byrd. "(Texas A&M offensive coordinator Clarence) McKinney came and watched him on Friday night. He is under the radar because he came out his senior year, but he has been hot on the market these last two weeks. Houston called and said they wanted to come look at him, and then they offered him on the spot. Schools who have already come by or plan on coming are TCU, of course Texas A&M has taken a look at him, Memphis, Texas and Texas Tech."
Byrd has discussed the reality of the situation with coaches who have come to see Iheanacho play, and the outcome is about what he expected.
"They (A&M) are hoping to get him like a Mike Evans," said Byrd. "They see a basketball player who has great body control, great route runner and a big target. They say the upside is huge, the projection on the kid."
Iheanacho is new to the football-recruiting scene, so coaches want to get to know him and learn more about him on and off the field. This weekend Iheanacho will have the opportunity to get to know TCU a little better and then the following week he'll visit Texas A&M -- which offered him Thursday night.
"He will be going to A&M on Oct. 19 for the Auburn game," said Byrd. "He is excited about that, and he is excited about A&M and his name even being in the same sentence. Then there is Germain Ifedi, right guard. The families know each other. It would be a great fit if he was able to go to A&M. He is going to be a diamond for somebody. It would be great to see him in the SEC with A&M. The upscale is huge right now. He is going to be a kid that you get him on campus and redshirt him for a year, because he has not even been through an offseason yet. You get him on campus and get him to 235 pounds and possibly even in the 240's with his frame, and there is no telling what could happen."
Down the road if there is a handful of football offers and a handful of basketball offers what happens then?
"He wants to go straight football at the next level," said Byrd. "He is going to play basketball his senior year here, but as it goes right now his best college experience is going to be going football. "
"All football," Iheanacho confirmed. "I decided to come back because I missed the competition, the atmosphere and being out there in it and the opportunities it creates."
Iheanacho is raw, but he is putting the work in during his down time to improve.
"He is really doing the little things- working on his route running, spending extra time catching tennis balls and learning how to maneuver his body in space," Byrd said.
Iheancho plays wide receiver at Westside and, according to Byrd, most colleges see him in the same position at the next level. Iheancho is not only physically impressive, but he also brings his A-game in the classroom-something his family encourages.
"He is the youngest of three brothers," said Byrd. "The middle brother plays football at HBU and he is a wide receiver. It is a very athletic family with a Nigerian background. Iheanacho is very smart -- top quarter of our senior class, 3.65 GPA and automatic qualifier on his SAT."
Iheanacho is not one to brag about his academic or athletic success, which is another quality that makes him rare.
"On the football field he has stepped into a leadership role, but he is not a big Rah-Rah guy," said Byrd. "When he speaks though he speaks volumes and it is quality. He is a good professional kid."
Even though Iheanacho is mature for his age when he makes the final decision his parents will be involved.
"The parents will be involved in the process," said Byrd. "But they don't go to a lot of games. That was the same with Germain's parents, and that's because they are working all of the time. They support him 100%, he comes from a great family atmosphere, but they are hard workers and care about his academics more than anything. He has to put up good grades or else he will hear it at the house."
Iheanacho's parents have kept him grounded and focused teaching him the importance of hard work and a grateful attitude.
"Whenever McKinney offered him to come up to a game he told me that he has never been to a college football game before," Byrd said. "This will be a great experience for him, the stadium, the 12th Man kicking in and the energy. It's definitely going to up his level for sure.
"We are not sure yet who will be taking him up there. We have some A&M graduates on the coaching staff and they are excited about everything."
Iheanacho has 26 receptions for 374 yards and eight touchdowns so far this season.