AggieYell Mailbag
Here's the latest edition of the AggieYell Mailbag...
Q: What's your opinion of Fedora joining Herman and tu's staff as a consultant? Does Jimbo have any ex-HC's on A&M's staff, and or, what's Jimbo's take on "consultants"? (tsip despiser)
A: A: I believe the term used is "analyst", at least in A&M circles, and yes, they have some. But not former head coaches. If you can have another set of experienced eyes, who wouldn't want them – if they understand your system, that is.
Q: Can you speak into these 2020 guys interest level for coming to Aggieland...
Z. Evans (RB) - High? Med? Low? R. Mickens (CB/S) - C. Thompson (S) Smith (APB) - B. Wright (DT) - Washington (S?) - Broughton (DE) -Lindberg (OT) - T. Omeire (WR) - McGlothern (CB) - (DXB19)
A: Evans: Medium to high. Depends on the day.
Mickens: Low.
Thompson: High.
Smith: unknown.
Wright: Medium.
Broughton: Medium to high.
Lindberg: Low.
Omeire: High.
McGlothern: High.
Q: 1) Names of recruits that you have noticed that looked like they were more for TAMU (in 2018) and now have TAMU lower on their desired/priority lists?
2) Names of recruits that you have noticed that TAMU is now on has TAMU as a priority, but and wasn't priority before 2019. (Huslin' One)
A: 1) RJ Mickens, Zach Evans, Chad Lindberg
2) Sa'vell Smalls
Q: Take off the Maroon glasses and no emotions, what's your analytical view of Herman vs. Fisher as a Head Coach, recruiter, over all program builder? (Big Smoothie)
A: Herman is a smart, very effective recruiter with a huge ego who frequently can't get out of his own way. He's done a good job selling Texas since he arrived, but he's also angered a lot of people. Fisher is the most driven coach I have ever seen. He's tough and very shrewd, and he knows how to reach people. His record speaks for itself, and it speaks very well. Herman is a good coach, but anyone who would prefer him over Fisher either wears orange shirts from Wal-Mart or hasn't paid attention in the last 15 years.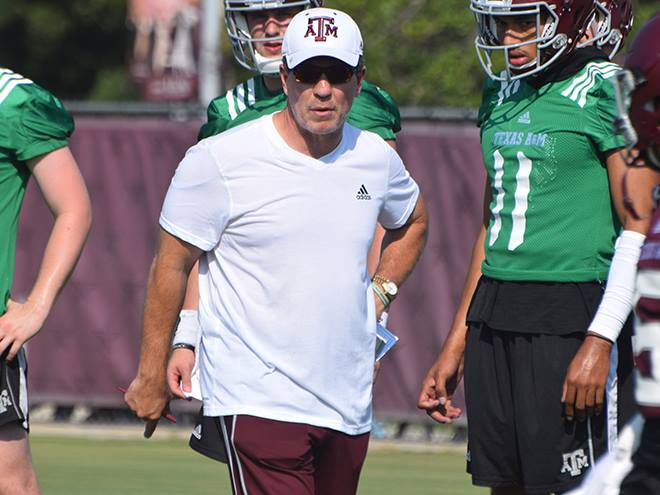 Q: Will JFF ever end up either in the AAF or in Arizona with Kliff? (Boo yah)
A: A: Not for another year at the least. Kliff seems very set on giving Josh Rosen a shot and Johnny still needs to really go out and perform and stay out of trouble.
Q: I think we need to pursue Zach Evans but I think he ends up out of state. No reason, just a gut feeling. Who's close to him in ability and who are we serious about as a fall back? (h273)
A: I think he reminds me some of Todd Gurley. He's not big enough to be Adrian Peterson. As far as fallbacks, Sam Adams seems like a name to watch. But this is a very good class for running backs nationwide.
Q: At this point, is there a must have recruit, the kind the pulls a class together? (MacyAg)
A: Adding Malik Hornsby would certainly help out. Bigtime QBs always work well as a selling point.
Q: Recruiting strategy seems different than last year. Do you see Fisher
1) Taking things slow, getting a commitment here and there and being almost full by the start of the season? or 2) Do you see the staff playing it old school. Have a few big recruiting weekends before the early signing period and finishing strong the last few weeks and signing day? (Don Draper)
A: More 1 than 2.
Q: We have an All American punter.. How does our field goal kicking stand up this coming year? And who handles the long snapping? (bobdoc54)
A: Seth Small is the placekicker. That's not even in question. And the deep snapper job will be decided in camp. They have a few options.
Q: Let's say you are appointed grand recruiting ranking czar for all things recruiting for all services. Are there any changes you would make to the process and methodology of ranking players? Perhaps broader rankings vs. the specific numeric ranking to whatever it is, four decimal pts? Or maybe greater transparency in the system? Less subjectivity in the criteria? Just curious. Thanks. (RiffRaff81)
A: To be perfectly honest, I haven't given it much thought. I would probably change the ranking system, but I don't know exactly how.
Q: 1. Looking at the 2020 top 100 it appears to be a down year in-state. Is that you're take too?
1. Like I said in 3 Quick Things Wednesday, it's hard to really tell right now because we were without a regional analyst for a few key months. I'll have a better idea after this weekend and the Rivals camp.
2. The in-state crop appears weak at DL, LB, OL, and TE, is that a sign we will go OOS for these positions?
2. OL is nearly done; they'll probably take one more and that guy will likely come from out of state. As for the others – check out the offer lists. They're going national.
3. What are your expectations for aggie baseball this yr? (AggieLuke04)
3. They'd better start hitting. The arms appear to be there.
Q: How close is h273 to getting his RB --- Sam Adams? (dirkieduck)
A: Way too early to tell.
Q: Your top three highest priority recruiting targets for 2020?
Favorite part of your job? (TAMU-83)
A: A: Sa'vell Smalls, Malik Hornsby and the best linebacker they can find.
The intro and the first quarter of games, when I'm on the sideline. It's pretty awesome.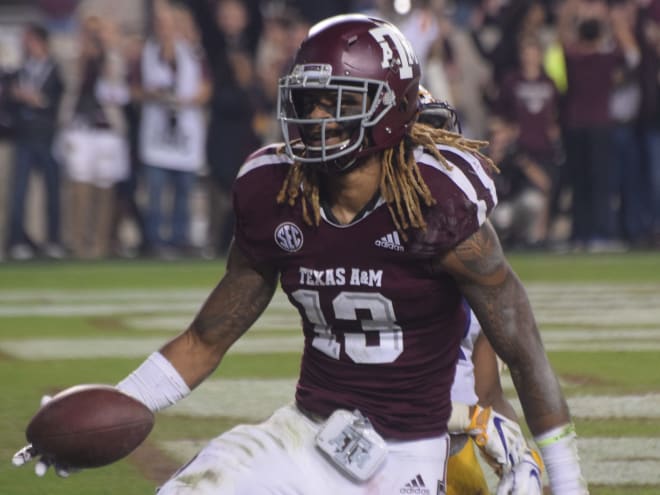 Q: Off the record, do you think there is a tu bias? Ok, had to try. Biggest surprise from Jimbo so far? Do you think Henson is better/same/just shy of Turner and why? (aggiefox27)
A: A: Biggest surprise? Maybe I'm jaded after the last guy, but he has done exactly what he'd said he'd do.
Turner was pretty underrated. People forget he not only coached the four first-rounders, Pat Lewis and Jarvis Harrison, he recruited them too. He pieced together a very flawed group this season and made it very serviceable. If Henson can just equal what Turner did, it's a win.
Q: Jordan Jefferson's highlights show him playing DT in HS. Is it probable the staff is looking at him on the DL in lieu of OL? (jrwarren2005)
A: No.
Q: Is Zach Evans that elite of a RB? IMO, he's definitely not the next Adrian Peterson like everyone says. Watching film, I don't see a lot of difference between him and a few others (McCellan, McGowan, Smith, Adams) etc. I think they are all great rbs. (statz)
A: Sorry to disagree with you, but yeah, he's really good.
Q: Rushing yards better this year?
A: No. They had the SEC's top back last year. You don't just replace him, even if Corbin is quite good.
Reckon Kellen Mond gets drafted within first 3rounds?
A: Talk to me after this year, or next.
Who goes to CFP first, A&M or tu? (Strobafett)
A: A&M.
Q: Wild guess - who are the top 3 receivers for us next year in terms of yardage?
A: Jhamon Ausbon, Quartney Davis, Baylor Cupp
Do you expect Cupp to have a similar offensive impact like Sternberger? (ChampKindKHOU11)
A: That would be tough. Sternberger had a generational year for a tight end. Nobody anywhere has done what he did last year, in terms of the effect he had on a game per catch.
Q: Who is going to be the backup QB....Blumrick or Foster? (El Capullo)
A: TBD, but I would lean in Foster's direction. If Blumrick wins, that's just fine with me.
Q: OK, it's a given that it's finally going to happen. We're going to get a new BBall coach. Everyone seems to be on the Buzz bandwagon. Help me get excited about the guy; tell me why he's not a JAG and is better than any of the tired-arse littany of coaches not named Billy Clyde Gillespie that we've had since 1980. (The Stein)
A: Until and unless there's a coaching change, I'm not gonna comment on that. But it's nice to see someone else use the term "litany".
Q: Do you find there is schedule bias within SEC? Examples invcluxe Bama always seems to have a bye before LSU and the news this week that Auburn georgia is moving because it's hard for Auburn. However, we finish every other season with multiple games on the road. It's hard not to think certain SEC teams get scheduling favors in the SEC. thoughts?
A: I don't know about an year-in, year-out bias, but it's mighty convenient that Alabama's two byes come before the two teams that could take them out – A&M and LSU.
What is the Athletic Department's approach to interview requests for players? Can players do interviews and podcasts at their own discretion? I notice several have been on Justin Dunning's podcast which surprised me. I thought it might have just been seniors but he's had Leon O'Neal. (Aggiewoo)
A: Individual requests, especially during the offseason, are almost always a no. But since Dunning has been part of the program and knows what is and isn't on the table, he make get a little bit of special dispensation.
Q: Chattman and Clemons have been off the field for 2 years. Come to think of Hansford falls in this category as well. Do any of the three make noise this spring? Will any of them play significant roles this fall? (brAg)
A: Clemons has only been off the field a year, but rust has to be an issue for all three. In the case of Hansford, he's at a position he hasn't played in four years. Clemons will be in a dogfight for playing time starting this spring, while Hansford should get a chance to crack the two-deep immediately. If Chattman is healthy, then he should get a long look at corner as well. How they do this spring may well dictate if they do anything this fall. It would be great if all three made an impact, because it would allow freshmen to come along a little more slowly.
Q: Sorry if I missed it, butts what is the story with Evans brother?
Why is he so anti ATM? Goes out of his way to talk down to us on social media? (Maroon1)
A: When Evans didn't show up for Junior Day, some A&M fans jumped on his brother (who was also his ride), and accused him of being Tom Herman's tool. He responded profanely and hasn't forgotten it. That's one very big reason I think fans should shut up on Twitter and leave kids (and their relatives) alone. Whether his brother is pro-Texas may or may not be true, but griping at him just gives him more ammunition against A&M.