Heisman repeat rests in Manziels hands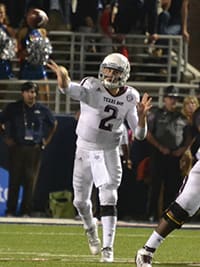 After Texas A&M's 24-19 loss to LSU last year, Texas A&M redshirt freshman quarterback Johnny Manziel was considered an afterthought for the Heisman Trophy. Instead of throwing in the towel, the Aggies went on a five-game winning streak to end the season, Manziel shocked the nation by leading A&M to a win at Alabama and Collin Klein flopped against Baylor.
Net result: Manziel wins the Heisman, a first for a freshman.
This year, Manziel enters the stretch run largely believed to be behind Florida State's Jameis Winston -- himself under a serious cloud -- in second place for a second Heisman. In order to win a repeat award as the nation's best college football player, the quarterback who is unbeaten on the road must stay that way. That truth is not lost on his head coach, who said as much Tuesday.
"I think for that (a repeat Hesiman) to happen, we've got a couple of big stages for our football team," Kevin Sumlin said. "LSU's a prideful program with a great, great history; to be successful there, we're going to have to play well as a football team and he'll have to play well. And then we have a game against Missouri that has a lot of implications for our league. We're going to have to play well against both these teams, and play well this week, to go to Tiger Stadium and win. What do they say? That's where teams' dreams go to die? We want to keep those dreams alive."
As they were last year, Manziel's statistics are breath-taking: He's completing 73% of his passes for 3,313 yards and 31 touchdowns, an average of 331 yards a game; to boot, he's also run for a team-leading 611 yards and 8 scores. But now he faces the team that engineered the worst showing of his career -- LSU, who held him to 27 yards rushing, 276 yards passing and picked him off three times last year.
LSU head coach Les Miles said his team isn't expecting to see the same Manziel they did last year.
"I think the quarterback is certainly a much better quarterback than he was a year ago," Miles said. "I think he recognizes where he needs to go with the ball and gets it out of his hand very quickly. He's very accurate. When he runs, he runs to extend plays."
The Aggie coaching staff has been wanting to see Manziel develop into an athletic quarterback, instead of the athlete who played quarterback and won a Heisman doing so last year. So far as Sumlin's concerned, that mission has been accomplished.
"Now people ask: Are you coaching him different? He's got more freedom at the line of scrimmage to change plays, which has enabled him to be able to do things pre-snap instead of post-snap, instead of if the play's not there taking off and trying to improvise," he said. "(Manziel)'s got that element, but he's also enhanced, I think, his ability to play the position because of his knowledge of our offense, his ability to change plays at the line and improved mechanics. It's fun to watch."
That maturity, Sumlin said, has extended to Manziel's leadership of the football team. More of a leader by example in 2012, Johnny Football has become the unquestioned vocal leader of the 2013 squad as well.
"As a freshmen, you're just trying to do your job; I don't care what position you're playing. It's hard to do your job as a first-year player and do your job and try to get someone else to do their job," Sumlin said. "This year ... just being comfortable, he's gotten better with that and talking to guys and what they should be doing. The game slows down for you the more you play. And that allows you to communicate with other players. He's comfortable in the system, he's comfortable in the situations -- he's been every situation you can be in -- he's been through that. The comfort level to be in that situation makes it easier to do that."
When asked about Manziel's consistently outstanding performances over the past two seasons, Sumlin said nobody involved with the A&M program was surprised that he has followed up his first season with one that is arguably better.
"The coaches and the players around here don't get surprised too much anymore because as good a things as we see on Saturday, there's some things we see Monday through Friday that are even more amazing," he said.
While LSU has lost many of the players that gave Manziel fits last year, Miles said the defense set the Tigers will use to try to limit the SEC's best quarterback will be similar.
"I think we're a little different defense than we were and we'll have to do some different things," he said. "But the principles we use will certainly be similar."
Does that mean Miles expects similar success against Johnny Football? Perhaps not.
"I think a year ago he was a runner. I think this year he's a much more capable quarterback. I think he steps back in there, understands what to expect, and seems to be stronger in the ability to throw it," he said. "He's thrown for 3,300 yards, 31 touchdowns. I see him as a much more complete quarterback, a very good player. If there's a better player in college football, I'd like to know who he is."