Red zone success could decide LSU game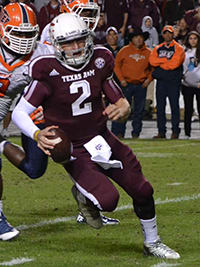 In past years, LSU's defense was the foundation of a program that always appeared to be in the hunt for a national title. The Tigers have finished in the top 12 nationally four of the past six seasons and they always appeared not only to have a top five draft pick leaving but one waiting in the wings to take their place.
However, it's hard to sustain that level of success forever and a combination of a wave of defenders leaving for the 2013 NFL draft and recruits playing too early or not living up to their billing has resulted in the Tigers having an average defense by their standards. Mind you, they haven't played badly this season as they are ranked fourth in total defense and sixth in scoring defense and remain in the top 40 nationally in both categories. However, they don't make as many plays as past units did (11th in tackles for loss and turnovers forced) due to a lack of playmakers throughout the unit. In addition, they've had to play younger players who didn't have the benefit of a redshirt year; in past years, their sophomores and juniors had been on campus for three or four years and were physically mature.
The Tigers run a 4-3 set under John Chevis who came to LSU after serving for 13 years as the coordinator of several very successful defenses under Phil Fulmer at Tennessee. Like most coordinators in this day and age, Chavis uses a variety of fronts, stunts, and coverages because he's been around long enough to understand that you can't give an offense the same look twice. However, due to the loss of eight starters to the NFL last season, he's had to simplify his approach at times this year. That's because his inexperienced players have had trouble combining the various fronts and coverages into one seamless defensive call. In addition, his secondary play has forced him to use more zone coverages due to the loss of great cover corners like Morris Claiborne, Tyrann Mathieu, and Patrick Peterson.
Last season, after falling behind 12-0 against Texas A&M, the Tigers went to a three man front and lined up their speedy defensive ends Barkevious Mingo and Sam Montgomery outside A&M's tackles. It was combined with something Chavis calls the Mustang defense where he uses six defensive backs to play two deep, three deep, and quarters (combination) coverages. The Aggies didn't attempt to the run the ball very much and the Tigers' defensive ends were able to contain quarterback Johnny Manziel within the pocket. When he tried to take off and run, LSU used its speed in the back seven to track him down. However, LSU lost Mingo and Montgomery to the draft and this year's defensive ends lack the ability to do the same things. In addition, A&M started running the ball more last season after that game and it became harder for teams to use three man fronts.
Defensive ends Danielle Hunter (rush end) and Jemauria Rasco (strong end) lack the speed that Montgomery and Mingo offered and Hunter is only a sophomore. Hunter has just one sack and although he is second among defensive linemen in tackles, many have come downfield. Rasco has a nice first step and has three sacks. Junior Jordan Allen rotates in but for the most part has been a non factor.
Ego Ferguson is 308 pounds and is the nosetackle. He holds up very well against double teams and has good enough quickness and hands that he manages to be more productive than most people at his position as he leads the defensive linemen in tackles. Junior Anthony Johnson (6 foot 3, 294 pounds) is the three technique who's supposed to have a the better first step and be able to make plays in the backfield but he's been a boom or bust guy. He has three sacks and 6.5 tackles for loss but, like Hunter, winds up being a non-factor on too many plays. They are thin at the position and former A&M commit Christian LaCouture (a true freshman) sees a lot of time there.
Linebackers Kwon Alexander, Lamin Barrow, and D.J. Welter are all 220 to 230 pounds and get enough protection from the front four that they are the team's three leading tacklers. The Tigers won't hesitate to use Alexander and Welter in coverage on slots. Their tackling has been an issue as has their run fits and ability to coordinate the front and secondary. Alexander is very active, uses his hands well, and is capable of shooting into the backfield behind a pulling lineman to take down a back for a loss. Barrow is 230 pounds and holds up well against most offensive linemen when they get to his level.
The secondary has been the biggest concern this season. Safety Craig Loston is a senior and is the only returning starter from last year. Otherwise, it's a group of sophomores and freshmen that has good size (all are 6 foot 1 or taller) but lack experience. They busted numerous coverages against Georgia and don't make a lot of plays on the ball (just six interceptions). They have gotten better as Chavis simplified things after the Mississippi State game but they still allowed Ole Miss' Bo Wallace to throw for over 300 yards, much of it coming off of play action.
Overall, LSU has struggled against the better quarterbacks on its schedule like Wallace and Aaron Murray, guys with experience who have some weapons and know how to get the ball down the field. That's because their front seven doesn't always hold up against the run and doesn't always get a lot of pressure on the passer which exposes a secondary that doesn't always understand what coverage it's supposed to be in or can't cover for long periods of time. However, when they're able to hold up against the run and not give up long plays, they can keep you out of the end zone and allow an offense that averages nearly 40 points a game to score touchdowns while your are kicking field goals.
In turn, the Tigers are facing an A&M offense that hasn't even been slowed down by much of anything this season with the country's best player having an even better season than he did last year while winning the Heisman Trophy. LSU normally likes to play eight defenders in the box but probably won't do that versus the Aggies as they'll have to play mostly zone to keep Mike Evans in check. Look for the Tigers to play a lot of nickel and dime packages like they did last season in order to try to contain Manziel. However, that makes them vulnerable to the running game because they won't have as many people in the box. In addition, once Manziel breaks containment, a young secondary can break down watching him rather than maintaining their individual responsibilities which allows big plays.
The key matchup up front will be A&M's center/guard combination versus Ferguson and Rasco against A&M's tackles. Mike Matthews has to be able to get off of Ferguson and get to LSU's linebackers if necessary or allow the guards to assist the other linemen on double teams. A&M can't let Rasco be a factor off the edge as their best rusher. In addition, they have to avoid the penalties that have plagued them at times, especially given the crowd noise that could be a factor on Saturday.
With the Tigers scoring close to 40 points a game and the Aggies capable of reaching that figure even with multiple turnovers, the game will probably be decided in LSU's red zone. The Tigers give up a lot of points in the red zone but are third in the SEC in touchdowns allowed because their superior athleticism allows them to cover a compressed field and make you kick field goals. On the other hand, A&M gets into the red zone a lot but doesn't always score (11th in the SEC in scoring percentage) as they have more turnovers in the red zone than field goals. If the Aggies don't turn the ball over and run the ball effectively in that part of the field, then their chances of winning increase exponentially.