A&M beats Mississippi State SEC-style
STARKVILLE, MISS. — The past three times Texas A&M came to Davis-Wade Stadium, Mississippi State overwhelmed them with a powerful running game and a stout defense. This time, the Aggies returned the favor.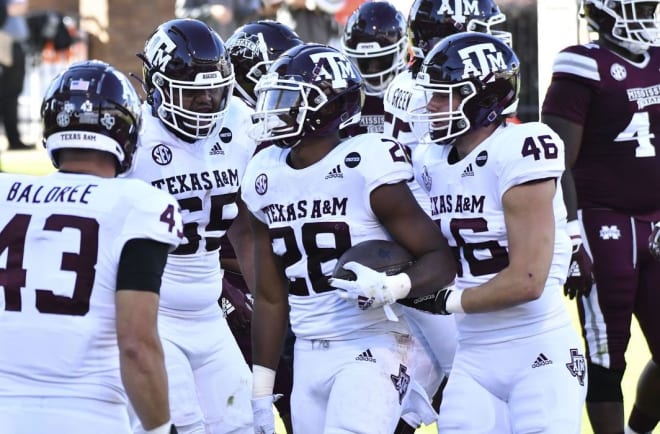 No. 11 Texas A&M (3-1) disposed of the Bulldogs (1-3) 28-14 Saturday afternoon, battering the home team with 186 yards rushing and 6 sacks while holding the home team to -2 yards rushing. Mississippi State only mustered 217 yards of offense and a single offensive touchdown.
Neither team scored in the first quarter, but the tempo for the game was already established. A&M's running game, led by Isaiah Spiller (18 carries, 114 yards, 2 TD) racked up 72 yards on the ground while Mississippi State punted twice and quarterback KJ Costello (15-22, 99 yards, 1 INT) threw an easy interception in the A&M end zone to a waiting cornerback Myles Jones on the drive in between.
The Aggies took command of the point of attack during their third drive, when they went 66 yards on 8 plays — all runs. Spiller scored from 3 yards out and A&M had sent the message that they were picking up where they left off against Florida. Mississippi State entered the game giving up just 76 yards on the ground in their first three games, and the Aggies had that mere moments into the second quarter.
"The emphasis all week was to run the ball," senior offensive lineman Carson Green said. "We wanted to show that we could run on anyone."
The Bulldogs went 3 and out on their next possession and the Aggies knew they were going to get the ball back, but they couldn't have gotten better field position. Linebacker Chris Russell broke through the Mississippi State line and blocked Tucker Day's punt, which was recovered at the Bulldog 1. A play later, Spiller had his second touchdown and the Aggies were up 14-0.
A&M forced another very quick Mississippi State possession and looked like they were about to get the ball at midfield after another punt, but safety Leon O'Neal was called for a personal foul for trying to jump over the punting shield, giving State the ball at their own 48.
"We got three penalties on one play," coach Jimbo Fisher said. "(O'Neal's penalty) was just ridiculous. We could have scored there."
Instead, it became another 3 and out, with safety Brian Williams picking up the first sack of his career to end the Mississippi State drive. The Bulldogs would get another shot at points on their final possession of the first half, getting to the A&M 26 before a sack by senior defensive lineman Jayden Peevy and an illegal block in the back pushed them out of field goal range. The Aggies went into the locker room up 14-0, getting the opening kickoff of the second half and having doubled their sack total for the season with four — mostly with a three-man rush.
"Pass rush was the focus all week," Peevy said. "We practiced (the 3-man front) well this week. Mike Elko had a great gameplan against them."
A&M took the second half kickoff and pushed their way down to the Mississippi State 32, when potential disaster struck. Quarterback Kellen Mond (13-23, 139 yards, 2 TD, 1 INT) threw a pass that hit off of Ainias Smith's shoulder pads and bounced all the way back to the line of scrimmage, where cornerback Emmanuel Forbes grabbed it and returned the bizarre interception 60 yards for a touchdown.
"We had a nice drive," Fisher said, "Then we had the ricochet."
In past trips to Starkville, that kind of play was a tipping point that led to a Bulldog run that point the Aggies behind the 8-ball. This time, A&M struck back immediately. In just 4 plays, the Aggies went 75 yards and pushed their lead back to 21-7 after wideout Chase Lane (2 catches, 70 yards, 1 TD), caught a shallow cross and outran the entire Mississippi State defense for a 51-yard score.
"(That was) the drive I was really proud of," Fisher said. "We came right back. We had two really great catches by Chase Lane and great throws by Kellen."
A&M would put the game out of reach shortly, when linebacker Buddy Johnson and defensive end Micheal Clemons combined to hit Costello, forcing a fumble that Peevy recovered at the Mississippi State 27 and rumbled 19 yards to the 8.
"I was that close (to scoring)," Peevy said with a bit of regret later.
It wouldn't matter; Mond hit Smith (5 catches, 20 yards, 1 TD; 10 carries, 52 yards) for a 6-yard touchdown pass two plays later, extending the lead to 28-7. That would be curtains for Costello, who was replaced by freshman quarterback Will Rogers. Rogers was far more effective, completing 15 of 18 passes for 120 yards and the first offensive touchdown the Bulldogs had scored in more than two games worth of football, but A&M's stout defense and running game stole any hope of a comeback.
The Aggies ended up running out the final 5:06 of the game, pushing the Mississippi State defense around one final time for good measure. A&M ended out running out the clock on the Bulldogs 1-yard-line instead of trying to add to their margin of victory.
"We wanted to show we could run the ball so (Fisher) would't call pass plays," Green said. "We want to prove we're a big team and people need to know our name."
Fisher said the Aggies have a lot to improve, but took satisfaction from the final outcome.
"A 14-point win is a good win," Fisher said. "Mississippi State has always been a tough place for us to play."