Five-star cornerback visits Aggieland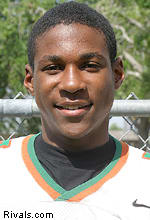 Like the information you're getting about Texas A&M athletics at AggieYell.com?
Click hereClick Here to view this Link.
to save money, and get rewards by upgrading to an annual membership!
It's not often that the no. 3-ranked player in the entire country shows up for a somewhat surprise visit at a university. However, that was exactly the case a little over a week ago.
Patrick Johnson
, a five-star cornerback out of Pompano Beach, Florida, is ranked as the third best prospect in the entire country according the newly-updated
Rivals100
.
Johnson, a soft Miami commitment, embarked on a summer tour visiting schools including Southern Cal and Florida. However, it was an unplanned stop in College Station, Texas that he says made one of the biggest impacts on him.
"I visited Texas A&M the other day," said the 6-foot-1, 193 pound prospect. "My dad and I were in Houston visiting one of his friends and he suggested that we go look at A&M.
"Everything there was great. The facilities were the best I had seen of anywhere that I've been this summer. But I really liked their academic program the best. They really stressed that a lot and let me know that I was there to get my degree first. That's important to me."
Johnson committed to the University of Miami back in early April, but he says that he is still open to a few other schools.
"I liked USC and Florida, along with A&M," he said. "If it doesn't work out with Miami I could see myself at those places.
"At A&M I really like the coach recruiting me, coach
(Van) Malone
. He is also my position coach and he is really down to earth and he seems to care about the players more than just in football."
Johnson is already planning a few official visits for the upcoming season as well and he says College Station will be included for sure.
"I'll probably just go on two officials," he said. "I'm going to go back to A&M and USC. My team plays a lot of Thursday games so I should be able to set those up. I might go visit Florida too, but I've already seen them a few times."
Besides his official visit, Johnson will have another chance to see Texas A&M play in person as well.
"They are coming down to Miami to play this year," he said of the Aggies. "I'm definitely going to be at that game for sure."