Unlike past years, LSU a scoring machine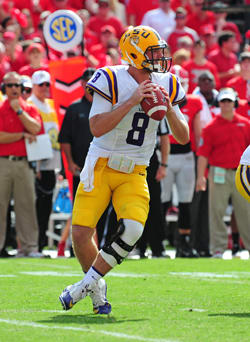 For the most part in the past few years, LSU has won with its running game, defense, and special teams. It may be hard to remember but the Tigers' last national championship season in 2007 featured an offense led by quarterback Matt Flynn that averaged 39 points and 440 yards per game. Since that time, the Tigers' production has steadily declined and although they scored an average of 36 points a game in 2011, that production was oftentimes the product of their special teams and defense. However, that was also the last time that the Tigers got good quarterback play in the form of Jarrett Lee and Jordan Jefferson.
This season, LSU's defense hasn't played like the defenses that we've grown accustomed to over the years. In addition, the Tigers' offensive line isn't as dominant as in past years as the Tigers rank in the middle of the conference in average rush per carry. However, the Tigers are averaging 38 points a game in large part because of new offensive coordinator Cam Cameron.
Mind you, although Cameron has introduced the Tigers to the West Coast offense that many professional teams use, it's actually his work with quarterback Zach Mettenberger that has transformed LSU. Last season, Mettenberger hit 58.8% of his passes, averaged just 7.4 yards an attempt, and threw only 12 touchdowns. His feet were never set properly when he threw and he also rarely stepped into his throws which made him inaccurate, especially down the field.
Cameron worked with Mettenberger throughout the off season and got him to do these things. As a result, Mettenberger's accuracy increased to 65.7%, he was able to hit his outside receivers on the deeper routes demanded by Cameron to the tune of 10.8 yards an attempt, and he's thrown for 20 touchdowns. That's because the West Coast offense that Cameron runs depends on timing and accuracy out of the quarterback and receivers and is actually very well suited to LSU's personnel.
The West Coast offense is the child of former Rams and Chargers' head coach Sid Gilman and believe it or not dates back to the 1950's. It's known by other monikers…particularly Air Coryell as it was used with great success by former St. Louis and San Diego coach Don Coryell…and was the basis for the Dallas Cowboys' attacks of the early 1990's. In fact, it continues to be the predominant offense within the NFL and was the offense that Mike Sherman ran when he was at A&M.
Basically, it consists deep and intermediate routes to the outside receivers and shorter routes to the running backs. Because it emphasizes the deeper routes down the field, the offensive linemen have to hold their blocks for longer periods of time and so it dovetails nicely with a power running game. Thus, Mettenberger is virtually the textbook quarterback necessary to play within this offense as he has an arm to make the downfield throws within the offense. However, it took Cameron's tutelage to enable him to play to his potential within it.
The outside receivers' routes are numbered within a route tree all the way from 0 being a quick hitch to 9 being a go route. The tight end's (or slot's) routes are similarly numbered. However, what's important to remember is that seven of the ten outside receiver routes are ten yards or longer with about half of them at 15 yards are longer. In order to complete those routes, the ball oftentimes must be released even before the receiver makes his break. In addition, the receiver must be able to get depth and get to a certain spot before the defender. Thus, a receiver must have sufficient speed to make a defender respect the deep ball and provide them space to make cuts to get open. Their cuts don't have to be precise but it's preferred that they can "stick" the route, plant, and separate. Taller receivers have learned to round off their routes because they lack the quickness to plant and separate, and perhaps even use their bodies to shield the defender from the ball.
Mettenberger benefits from Odell Beckham Jr. and Jarvis Landry, both of whom are fast receivers who can stretch a defense vertically and make the types of cuts to get open on the intermediate routes. Beckham Jr. is averaging 20.61 yards per catch and Landry is averaging 15.43 yards per catch; together, they average about 200 yards a game combined and have caught 70% of all passes completed by the Tigers this season. They'll put both in motion and line Landry up in the slot to create personnel mismatches. Mettenberger has developed great confidence in them and will just put the ball in their vicinity at times and let them go after it.
In order to complete the majority of your passes down the field no matter what offense you run, you have to have quality protection and LSU has that for the most part this season. This is especially important for Mettenberger who is not very mobile but has been sacked 18 times (the Tigers rank in the middle of the conference in this category). In pass protection, they get help from play fakes that hold the linebackers underneath the deeper routes and buy time from the pass rush even when the running game isn't working.
The offensive line has been revamped over the course of the last two seasons due to injuries and defections and is a young unit (all five starters are freshmen and sophomores). For example, Elliott Porter originally played defensive line in high school and has wound up at center. He's not a big guy (278 pounds) and has struggled with bigger nosetackles sometimes this season. However, he been their best lineman this season because he's the most athletic of the group and can play with pad level. Sophomore Vadal Alexander has the best feet outside of Porter and with his size can push people around, pull, and get outside.
The running game has been LSU's bread and butter in past years but due to the young offensive line it hasn't been a game to game constant for them. Due to their height and lack of athleticism, many times they lack the ability to break down and win pad level both inside and outside. They also aren't very physical at times even though they do feature some big guys. As a group, they have played better at home than on the road where crowd noise can cause communication problems (their three lowest rushing games have come on the road as they have had issues with size but also with line calls and determining who to block).
The Tigers run your typical I formation plays…toss, power, iso…and pull virtually any lineman along the front to the playside. They continue to run that toss play where the toss is back to a tailback who is already moving forward to the line. In addition, Beckham Jr. and Landry have sufficient size that they will motion them into the formation and have them trap linebackers and even defensive linemen.
Running back Jeremy Hill is averaging seven yards a carry with 13 touchdowns and is a force unto himself. He's 230 pounds and although he doesn't always run with good pad level, he does so enough that it's no fun to tackle him. In addition, he has pretty good feet and cuts better than you would expect from a guy his size. There's not much of a dropoff when backup Terrence Magee enters the game. Senior fullbacks Connor Neighbors and J.C. Copeland offset some of the issues in the offensive line and are capable of overmatching linebackers at the next level. Beckham Jr. and Landry are also good blockers and can get runners past the second level with their work downfield.
The teams that have defended LSU the best like Ole Miss and Alabama have stopped the run and blitzed them on third down to provide different looks to confuse Mettenberger. The Aggies will play eight in the box and use a three deep look to both try and stop the run and prevent long passes down the field. However, if A&M's corners play off too far, then LSU will take those intermediate routes up and down the field all day. In addition, while the Aggies have struggled with the quarterback run game out of the inverted veer and zone read, they've also struggled in other aspects of the run game because either lack first step personnel or they eventually get worn down and don't get penetration to beat down and reach blocks. They have also struggled to tackle, play assignment football up front, and maintain their zone coverages due to miscommunication in the secondary.
Overall, A&M's defense is what it is at this stage of the season. They can play well for a half but then the offense turns over the ball, the opponent makes an adjustment, or the lack of rotations up front wears them down. The Tigers average nearly 40 points a game and should be expected to meet or exceed that figure just like A&M's offense is anticipated to score a lot as well. As a result, it's probably going to be a shootout with the last team to have the ball having the advantage.