Walker sees opportunity at AM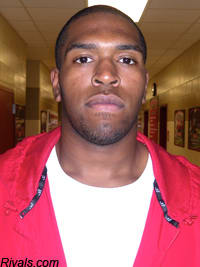 For some high school football players, playing in college is the culmination of a dream, or a step towards possibly playing in the NFL.
For Aldine Westfield DT
Hardreck Walker
, it's the road to a better life, one way or the other.
Early in his recruiting process Walker told AggieYell.com he wanted to be different than most of the kids his age. He wanted to get out of Aldine and make his mom, who he calls his hero, proud.
Over the weekend Walker took one step further towards his goal. He took his official visit to Texas A&M.
"It was great," said the four-star A&M commit. "I did not want to leave. Next step is signing day, then it is real."
One of the major selling points A&M had over its competition was its engineering program, as Walker has said he wants to major in civil engineering. From there, however, the Aggie coaching staff took over and made sure his interest became stronger. As his relationship with the coaching staff grew, so did his belief in what the Aggies could accomplish in the SEC.
After the Cotton Bowl Walker said, "Game over! They said we couldn't do it. Words can't explain how much Coach Sumlin has came in and turned it around."
Walker's appreciation for A&M and the coaching staff grew even more over the weekend.
"Hanging out with the players and coaches was great," he said. "I was with Michael Richardson most of the weekend. I did get to talk with Coach (Terry) Price one-on-one."
From the start of their relationship, Walker described Coach Price as an upbeat, energetic coach. Nothing has changed since then.
"Coach Price is excited for me to get to College Station," Walker said. "We talked about offseason and how important it will be for me to stay in shape and stay healthy especially since he sees me as someone who will have to play early. After signing day I should get workouts to do from Coach (Larry) Jackson."
Walker wanted to make sure that everyone who was part of his trip to College Station knew how much he appreciated them.
"Just want to say thanks to everybody who helped make my official one to remember. This weekend showed me something I already knew. Texas A&M is the place for me," he said.